GWR, also known as God's Wonderful Railway started publishing in 1906 it's Holiday Haunts Book. It produced it annually until 1947 with a break during the war. The books must have been a massive undertaking. In the 1930s they ran to over 1000 pages stuffed full of useful information and advertisements for hotels guest houses and other attractions. They were selling up to 200,000 copies a year. The sheer scale of the operation of editing, collecting the adverts, typesetting, printing, binding and distributing must have been mind blowing.
When I found out about these publications I dashed out and bought one on eBay for the 1930 season. Because the document is so enormous it is very difficult to read and suffered from all of the usual ills of fading and it smelled awful. So I have taken the document to pieces scanned and OCR'd it and now for the first time, I present it for your pleasure.
Click on the image below and it opens as a flipbook. If you choose to download it (and feel free) be aware that it runs to 160 megs – after all it is over a thousand pages!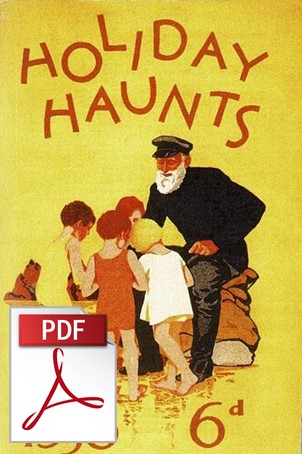 GWR Holiday Haunts Cover Examples
Contact Us Please
I want to hear from you. Comments, feedback and donations are always welcome. Your privacy is important to me and I will never share any information.